Manhattan Bicycle Accident Attorneys
Bicycle Injury Lawyer Representing Victims Throughout New York!
Because so many people are turning to alternative methods of transportation, thousands of New York residents have begun riding their bikes to get around town. Bicyclists in New York have the same right to use the roads as the drivers of motor vehicles. Unfortunately, Manhattan bike accidents continue to occur at an alarming rate.
Common Bike Accident Injuries
Bicycle accidents in NYC are most commonly caused by driver negligence and unsafe road conditions. If the accident was caused by a negligent driver, the driver will be held liable for damages as well.
Were you injured in a NYC bike accident? A bicycle accident lawyer in Manhattan is ready and able to pursue compensation on your behalf.
Contact Loscalzo & Loscalzo, P.C. today by calling (646) 846-4776!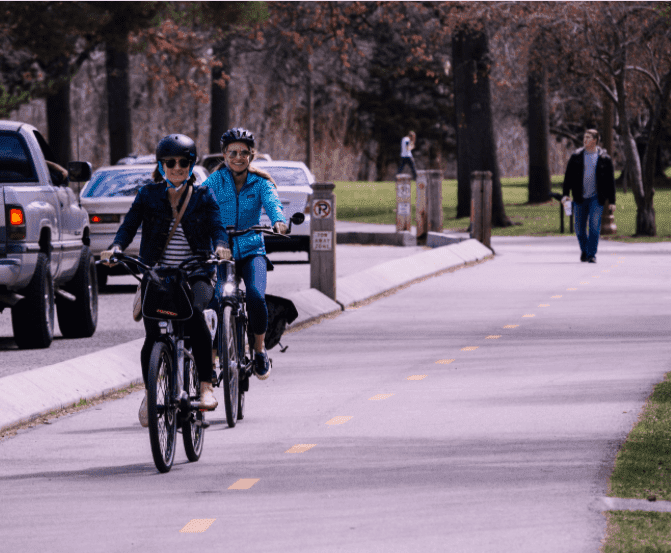 Because bicycles lack the protection of a steel frame, seat belt, and airbags, many victims of New York bike accidents sustain multiple serious injuries, such as:
Concussion
Traumatic brain injury (TBI)
Head injury
Broken or fractured bones
Neck injuries
Spinal cord damage
Nerve damage
Internal bleeding
Crush organs or limbs
Paralysis
Scarring or disfigurement
Permanent disability
Death
NYC Bike Helmet Laws
While a helmet can provide valuable protection for your head and brain in the event of an accident, individuals over the age of 14 are not required to wear a helmet while cycling in New York City. Although there has been discussion in the past about establishing a law that requires helmet usage for all cyclists in NYC, this has yet to become a part of the New York bike laws.
Filing a Bicycle Accident Compensation Claim
Not only are injuries incredibly painful, but they can affect the victim's ability to work or perform basic daily tasks. Because of this, many victims are not able to pay mounting medical bills and household expenses. This can lead to overwhelming stress, psychological distress, and depression.
No person deserves to suffer from the physical and psychological effects of a bicycle accident. If you have been injured in a New York bicycle accident, you are legally entitled to collect damages for your injuries. Our experienced and aggressive bicycle accident attorneys in Manhattan can help you recover compensation for your pain and suffering, psychological trauma, medical expenses, treatment and rehabilitation costs, lost wages, and general financial hardship.
At Loscalzo & Loscalzo, P.C., our bike injury attorneys are committed to protecting our clients' best interest at all cost, and providing them with the legal care they need to move forward after their accident or injury.
Contact us at (646) 846-4776 for a free consultation.
Bicycle Accident Blog Posts
Looking for more information about bicycle accidents in New York? Read our latest blog posts: