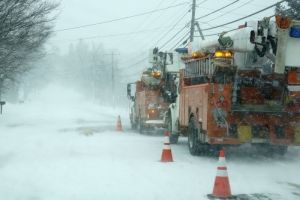 There are a number of nor'easters hitting the state of New York. This means multiple storms creating often uncontrollable conditions for pedestrians and drivers alike. As such, it's important to understand the various dangers associated with the nor'easters and how to avoid them.
Because of the constant wind and snowfall, there are a number of hazards that can cause serious accidents. Here are the top three accidents caused by the nor'easter weather in New York.
Slip and Fall Accidents
A large amount of snow and cold temperatures can create icy patches on the floor that are often difficult to walk on. This can cause pedestrians to slip as they walk across a path or sidewalk. As a result, the pedestrian can fall and suffer serious injuries.
Slip and falls quite often lead to serious back and neck injuries, as well as torn rotator cuffs and other harmful damages. It's important for pedestrians to keep a close eye on potential slippery patches on the ground to avoid getting hurt.
Auto Accidents in Dangerous Travel Conditions
Increased wind and snow is a recipe for disaster, especially when it reduces liability and makes it difficult for drivers to see. This can lead to car collisions, motorcycle or truck accidents, crashes involving bicyclists, and more. These accidents are often caused by the reduced visibility, but also because tires may be susceptible to slippery roads and drivers may lose control.
Downed Cables and Power Outages
Because of the high winds, there is potential for cables and power lines to become downed, often causing power outages. This can impact individuals in their homes, but it's also dangerous because traffic signals can stop working, leaving drivers and pedestrians susceptible to injury.
Down cables are also still full of electricity and everyone is urged to stay away from them in order to prevent harm. Contact with these cables can often cause serious injury, or in some cases, fatal injuries.
At Loscalzo & Loscalzo, P.C., our New York personal injury attorneys work hard to protect the rights of individuals injured due to harmful conditions. Whether the cause of an injury was a property owner failing to clear icy patches or a negligent driver, victims deserve to seek justice. We put more than four decades of experience in our clients' corners.
Call us today to request your free consultation and discuss your potential case.